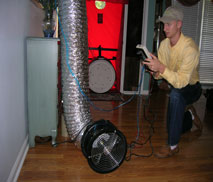 Most buildings can reduce their energy use by implementing design features, or by implementing the proper energy saving retrofits. Energy House Technology offers the knowledge and expertise to lower a building's energy use by the most cost effective path. We are a Third-Party Verifier for energy efficiency in buildings. If we haven't measured it, we won't recommend it. We offer complete objective strategies and recommendations.

As the energy codes become more stringent, it is more important than ever to look at all the viable options when designing a home. There are many options that can be weighed and compared when performing the energy calcs. Some of these include window performance, insulation types, building leakage, lighting, HVAC systems, etc.



Many existing home owners would like to reduce their energy costs. The best approach is to have an energy audit performed that tests the building as a 'system'. This energy audit measures the various building leakages, pressures, HVAC performance and appliances. The results of such an audit yields the clearest path to the best retrofit measures that should be taken to reduce the overall energy costs. If your home is already energy efficient and you are interested in renewable energy sources to reduce your energy bill, we can advise what your best alternatives are; such as a solar system and the size that is compatible with your home.

We offer a full range of energy services that are beneficial at the building design phase, all the way through test and verification. We have grouped our services by interest group. Please see the menu selection to the left and click on the set of services that fit your needs.


Email Us at
Info@EnergyHT.com


Call Us: 561-459-0242










Welcome to Energy House Technology

Our mission is to maximize a building's energy efficiency at the lowest cost